Bernie Keefe
Fishing with Bernie offers the finest in Colorado lake fishing trips. Experienced guides working with top of the line equipment and boats use years of experience to make your trip outstanding.
Offering different rates depending on your group needs or if you are going solo, Bernie and the guys will take care of you and add to your experience with patient instruction where needed and fishing stories from other trips.
By the time you are back at the ramp, loading your packaged fish in your car, you will be looking forward to your return trip to Grand County Colorado.
Bernie has been operating Broken Antler Outfitters / Fishing with Bernie on Lake Granby and Grand Lake in northern Colorado for over 25 years. Although he primarily guides his clients in search of trophy lake trout, Bernie is equally adept at catching walleyes, among other species.
Born and raised in Colorado, I grew up in the outdoors fishing, hunting, and backpacking. From a young age my passion for fishing was evident and it has yet to fade, but only increase to this day. I have experience fishing waters across this state and others for many different species, but the focus of my attention has been these amazing fisheries that Grand County has to offer. I look forward to sharing my knowledge and passion as we have a great time and catch some fish too!! To contact Dan directly call (303) 956-3804
Randy is a Colorado native that moved to Granby, CO in 2016 to be close to his lake... Williams Fork Reservoir. Randy is an avid fisherman that has been boat fishing on Will Fork weekly for well over 30 years chasing trophy Northern Pike. Randy loves to fish and shares that passion as a full time fishing guide with his clients that are visiting in Grand County.
Lake Trout
Randy can take up to three fishermen on half day Lake Trout trips from mid May thru October. Trips start at 6:15AM. Although Lake Trout can be caught year round, the best months are May into June and then again in October. Will Fork's Lake Trout average 15" to 21". Rates for Lake Trout fishing trips are $300.00/1, $400.00/2 and $500.00 for three. All fishing gear and bait is provided. Clients may keep four Lake Trout under 19" per person. To book a Lake Trout fishing trip call Randy at 303-945-5328.
—————————————————
Northern Pike
For safety reasons Randy can only take two fishermen on half day Northern Pike trips. The best time to cast for Trophy Northern Pike is late June thru August. Northerns have become challenging to catch, so if you're not a devoted trophy hunter, perhaps we should go Lake Trout fishing instead. Rates for a half day Northern Pike trip is $350.00/1 and $450.00/2. Fishing gear is provided. All Northern Pike will be released after photos. To book a fishing trip call Randy at (303) 945-5328.
You'll be fishing on a fully equipped top of the line 2018 Targa V19 aluminum boat.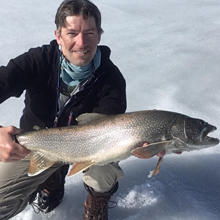 Tucker is a Denver native who has had a great appreciation for the outdoors and particularly fishing ever since he was a young boy. He started exploring the lakes and streams in the area as soon as his dad would let him out of the house without supervision. He enjoys sharing his knowledge of fishing so much, it led him to work in the fishing industry for many years, first as a fishing department manager for one of the Orvis stores, and then as a professional fly fishing and ice fishing guide. He has taught hundreds of people to fish over the years.
Though he pursues various species and has fished all over the country in both salt and fresh water, his summer favorite is chasing trout with a fly rod. In winter, he can usually be found jigging for mackinaw, northern pike, or trout through the ice on one of many local lakes. To contact Tucker call (303) 358-6604.
Fishing in Grand County has been a part of Jakes life since he was a young kid. He spends his time fishing rainbows, browns and lake trout in the nearby lakes and rivers. Jake has spent countless hours and days perusing these fish via boat, on the ice or even standing in the moving waters of the nearby rivers catching fish in Grand County. It would not be a true statement to say that Jake has spent more hours of his time fishing in any other region of the state. When Jake is not on the water, he enjoys spending his free time developing new techniques and tackle. He loves to invent new ideas and patterns to give him an edge on what the fish in the area are willing to bite.
Jake looks forward to fishing with you and making a memorable day on the water along with becoming lifelong fishing friends. Please feel free to contact him at (303) 434-8468 should you want to book a day on the water with him.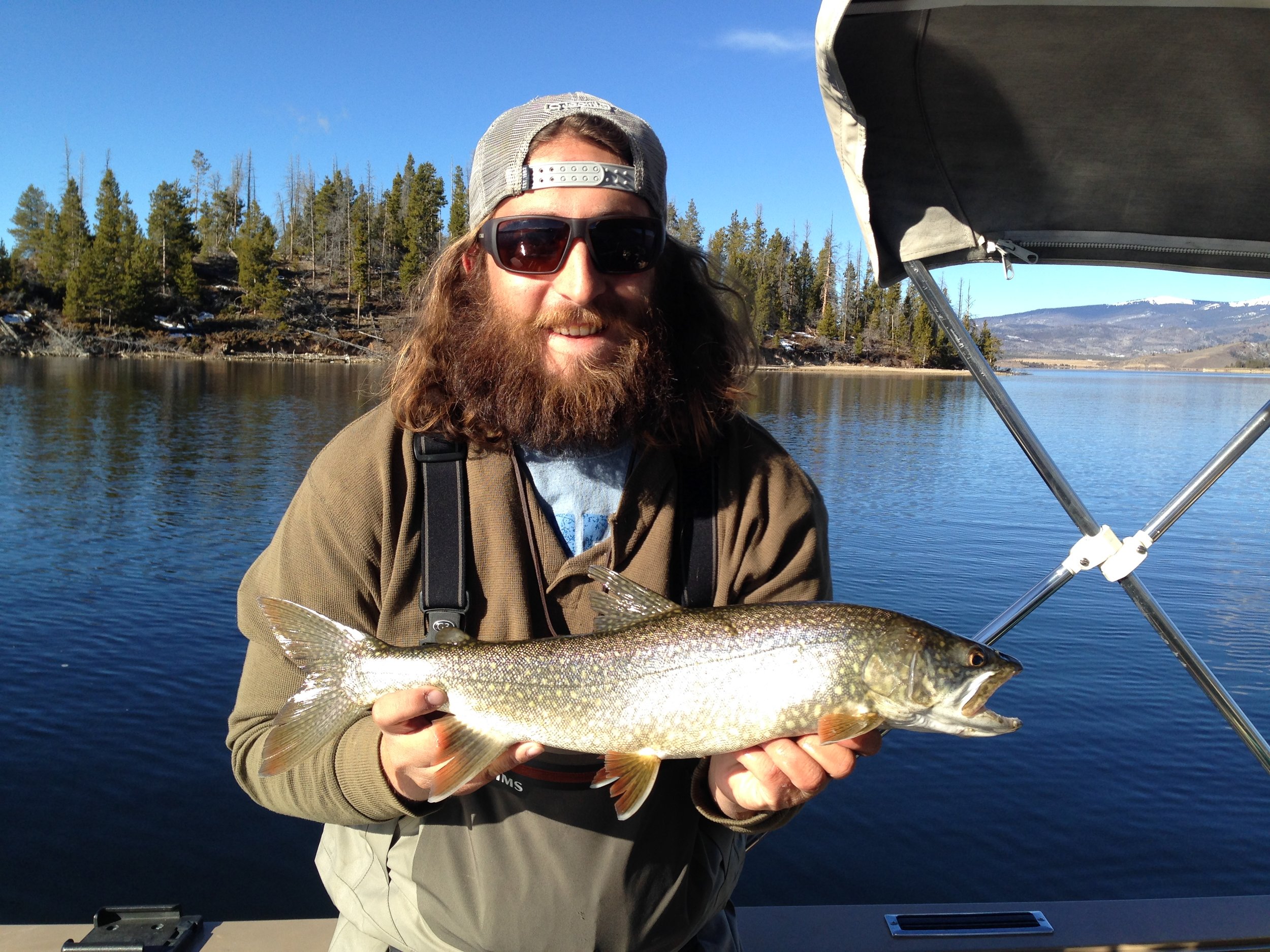 Sam is a Colorado native who has been fishing in Grand County since he was
a boy. Sam firmly believes that happiness is most easily found on the
water with a fishing pole in hand and loves to share that experience with
others. He enjoys teaching others to fish while also continuing to learn
as much as he can about every aspect of fishing. To contact Sam call (720)
666-0141